Ultimate Guide to Festival Camping
2022-12-07 17:07:45 +1100
Australian music festivals are back in full swing and festival camping season is here! Whether you're a festival camping pro or complete novice, we've compiled the ultimate how to guide, with the must-haves and checklist so all you have to plan is which stage you'll be at!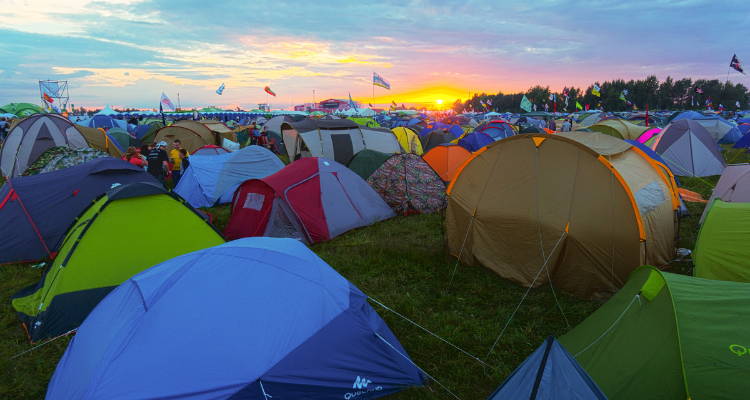 Summer festivals such as Falls Festival, Beyond the Valley and Lost Paradise are right around the corner – this means it's festival camping season!
Each year thousands of young adults flock to parklands all over Australia, attending multi-day music festivals to bring in the new year. And what better way to celebrate than surrounded by mates, bevvie in hand, listening to some of your favourite artists?
As much as festivals are fun and carefree, it can be difficult to know exactly what to take, especially if you're a camping newbie. Even seasoned campers weren't prepared for the wet weather of Splendour in the Grass, aptly renamed Splendour in the mud. So, if you're furiously googling 'what to bring festival camping', read on.
Must-Haves for Festival Camping
A tent is arguably the most important thing you will bring with you to a camping festival as it's gotta survive possilbe intense heat, winds, downpours. The last thing you want to do is struggle with tent poles during your camp setup when you just want to start chilling.
We recommend a pop up tent like our 2 Seconds Pop Up Fresh & Black Camping Tent, as it's self supporting, so super easy to assemble and pack away. Leave your sleeping mask at home, our FRESH & BLACK fabric blocks out 99% of daylight, which keeps it cool and dark for when you finally get to sleep in the AM. It's also waterproof so you'll be safe from wet weather even in tropical style rain. Still bring earplugs though for the early morning stragglers and early risers pumping music at 9 am.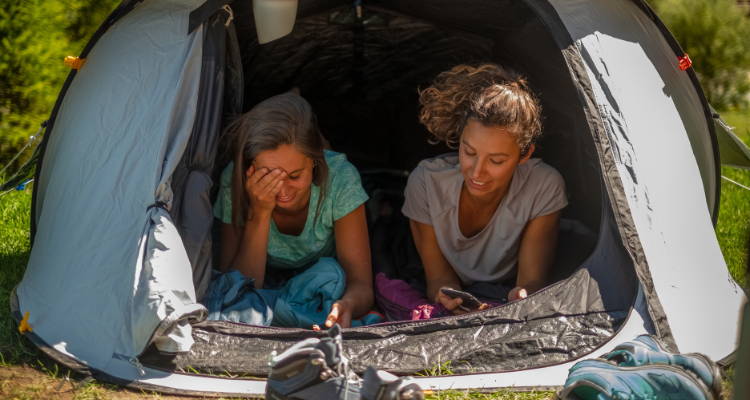 Unfortunately most festival camping sites have banned gas cannisters, portable gas stoves and BBQ's, also not providing power – but we know a way around this! If you don't want to solely rely on expensive food trucks for every meal, we recommend grabbing a portable electric kettle so you can make cup a soup, packet noodles and dehydrated ready to go meals. Alternatively, opt for long lasting snacks that don't need refrigeration like protein bars, chips or tinned veggies and fruit – you'll survive without all 5 food groups for a couple days.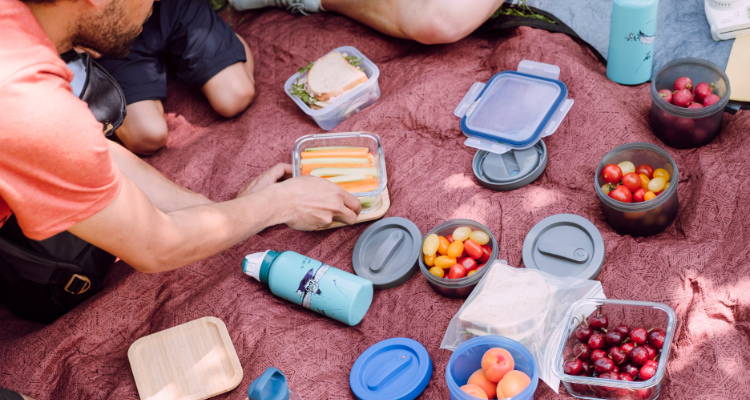 You need to be prepared for both ends of the spectrum, bloody hot and bloody freezing – good vibes can only get you so far.
Many festivals are all about self expression and dressing up in fun clothing but there's only so much warmth you can get from glitter and a thin festival shirt. We recommend taking a waterproof jacket so you can stay warm and dry – just take it off for photos. Alternatively if you still want your outfit to shine, wear thermals underneath! Another very important part of your outfit in wet weather is your footwear – swap out your white sneakers and heels for some good ole fashioned gumboots to evade trench foot.
Now for hot days lets go back to the basics we learnt in primary school – slip, slop, slap, seek, slide.
Slip on some protective clothing
Slop on and reapply lots of sunscreen – we recommend using Sport Sunscreen as it's sweat and water resistant
Slap on a hat – remember no hat means no play
Seek shade under a tree, gazebo, tall person
Slide on some sunnies
Although lots of festivals provide portable showers, the experience can be less than desirable from long lines to potential foot fungus infection. There's only so many days baby wipes and deodorant can get you through, so at some point, you're gonna need a shower.
We recommend going for a portable shower like our 10 Litre Pressure Solar Camping Shower, just fill this bad boy with water, pump it up and let mother nature do the rest. If the sun is absent, use a kettle to bring up the temperature of your water instead. If you don't want to cop a fine, we also suggest bringing a shower & changing shelter.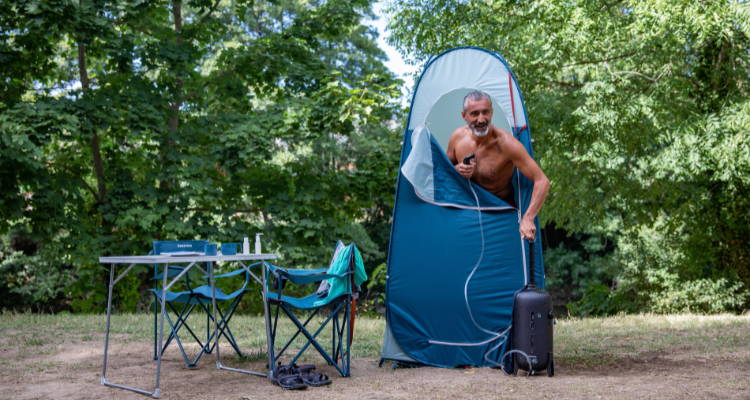 Not all festivals allow you to camp beside your car so get ready for a trek. Just like taking in the groceries, you don't want to make too many trips to your campsite, so we suggest a Folding Camp Trolley. This handy trolley makes transporting your gear a breeze as it can pull up to 50kg and is collapsible into just 18cmx41cmx55cm.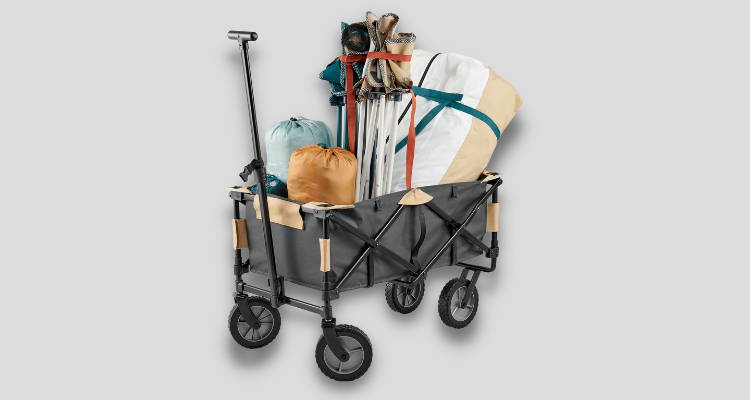 What to Take to a Camping Festival
Now you've got the must-have down pat, here's everything else you could possibly need to take to a camping festival.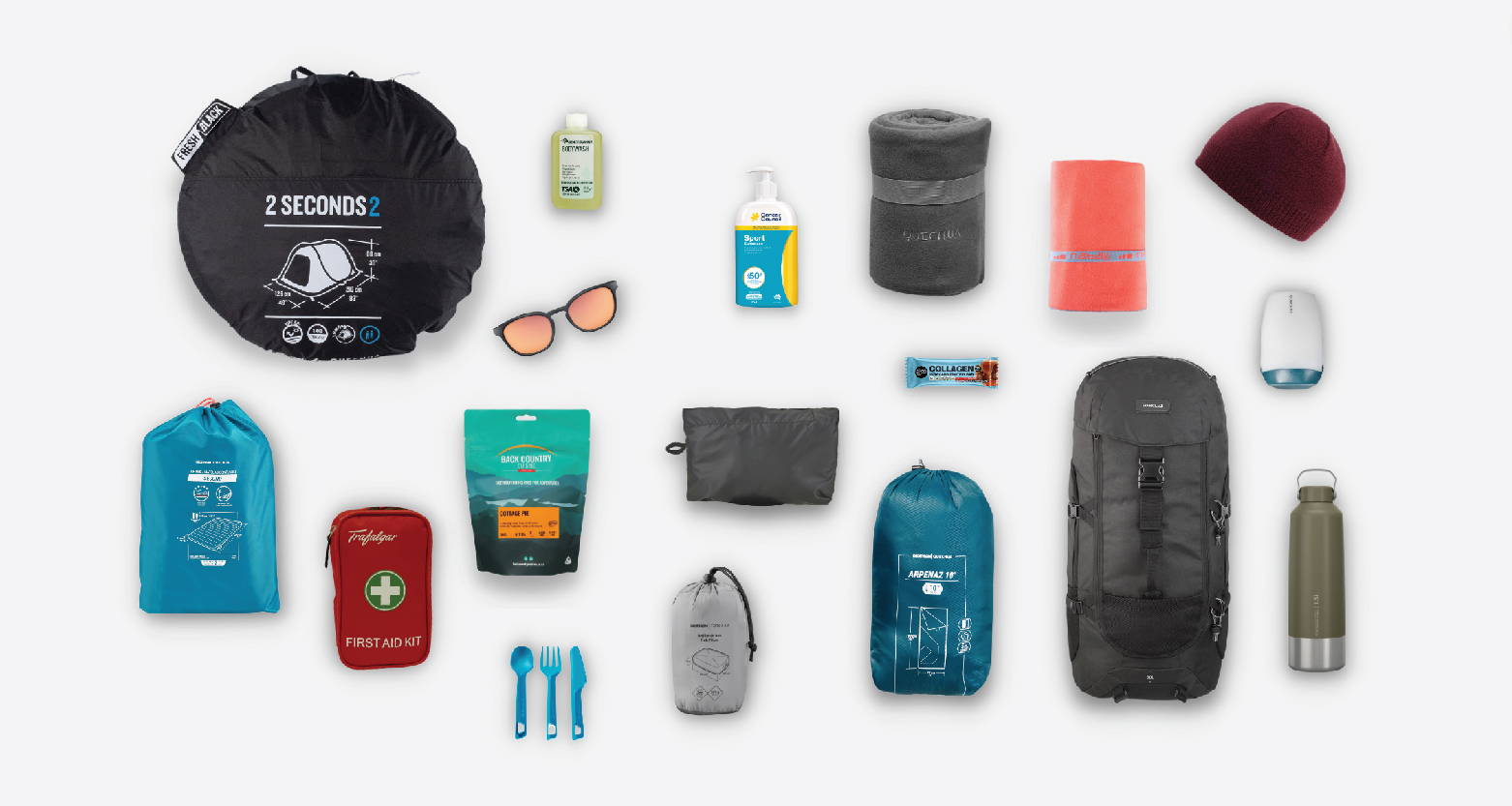 Shelter Essentials
Tent
Pump
Lamp & Headtorch
Gazebo & Tarp – Protect yourself from the sun and rain
Picnic Rug
Camp Trolley
Portable speaker
Campsite landmark/Flag
Cooking & Coolers
Big water bottles
Dehydrated food & ready made snacks
Food Containers
Cutlery – Fork, Knife & Spoon
Cups, Bowls & Plates
Cooking Utensils – Cooking knife, chopping board, pots, pans, tongs, spatula
Cleaning Supplies – Rubbish bags, paper towels, sponges, dish soap, tea towel
Camping Stove & Gas – if allowed by the campsite
Hygiene
Body wash
Shampoo & conditioner
Toothbrush & toothpaste
Toilet paper
Deodorant
Solar shower
Hand sanitiser
Safety & Protection
First Aid Kit
Painkillers
Tent repair kit
Instant cold pack
Hat
Wet Weather
Protective backpack cover
Ground sheet
Water-repellent picnic rug
Umbrella – check if they're allowed in your festivals FAQs
Fleece blanket
Hand and feet warmers
Thermals
Beanie
Games
Ping pong balls – grab the table and cups you've already got there and you've got beer pong
Nerf Super soaker – fill with the liquid of your choice
Personal
Debit card & cash
Tickets – camping, car & festival
ID e.g. driver's licence, current passport, proof of age card, International Driver's License
Clothes
Medication
Power Bank and chargers
So by now you should have a pretty good idea about the must-haves and everything else you could possibly need for festival camping but if you're still after some tips, here are our Top 20 Camping Hacks.