Take a Mediterranean Holiday with these Spanish Seafood Recipes
The best way to experience other cultures at the moment is through the food that you cook.
The Spanish have a love affair with seafood… Surrounded by the ocean on three sides, the country has developed some gorgeous ways to serve classic seafood species, that will make you feel like you're relaxing on a beach from the first bite.
Here are some of our favourites – some classic and traditional, some reimagined and innovative!
Cuttlefish with Chorizo & Potatoes
Pork and seafood is a traditional combination all throughout the Mediterranean. This gorgeous and fragrant dish has a lovely smoky note from the smoked paprika… It makes a great entrée, main course, or tapas dish. Cuttlefish are a delicious and relatively cheap cousin of squid, and will almost always come pre-prepared in easy-to-cook slices (order here).
Sardinas Fritas
'Sardinas fritas', or pan-fried sardines, are one of the most common dishes in tapas bars all along the Spanish coast. These small, oily fish are so easy to make, and go down perfectly with an ice-cold beer, white wine, or perhaps a glass of manzanilla sherry. Bonus… Australian sardines are ridiculously cheap for how good they are. You can generally find them for under $10/kg, and your fishmonger will generally butterfly them for you (order here).
Escabeche of Australian Salmon
Escabeche is a traditional Spanish and Portuguese sauce, a hot vinegar and wine marinade, used to cover fried seafood and poultry (traditionally partridge) which is then generally served cold. Escabeche can be eaten at room temperature as soon as the marinade has cooled, but is best refrigerated until cold; it can be kept covered in the fridge for up to 3 days.
Any oily fish is delicious prepared this way, as are mussels, but Australian Salmon is a fantastically cheap option (order here).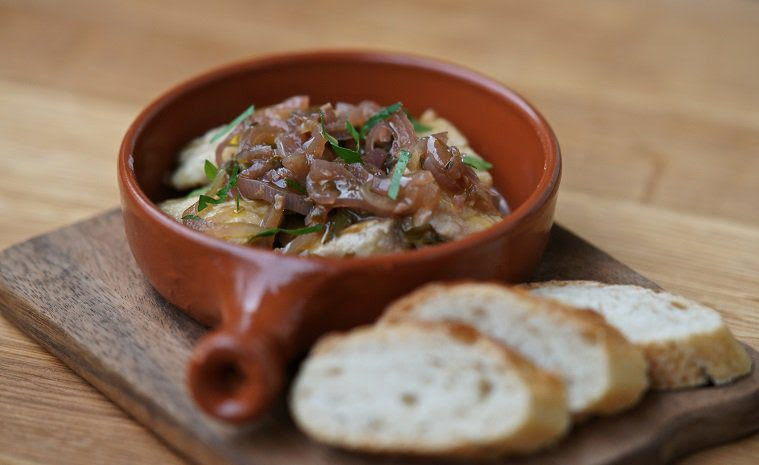 Spanish Tuna 'Meatballs'
Albondigas, meatballs, are a standard part of the Spanish tapas repertoire. These ones are made with Tuna, but don't taste 'fishy' at all. They're delicious and a great way to get some fish into the diet of kids or others who may not like the flavour. They're also a great way to use up Tuna offcuts, which you can usually buy extremely cheaply (order here), as the food processor breaks up any sinew.
Deep-fried Bass Groper Strips with Romesco Sauce
Romesco is a Spanish sauce made from nuts and red pepper. It is from the region of Catalonia where, in spring, it is served as a dip for calçots, a local spring onion that are traditionally charred over an open fire. Romesco sauce is often served with seafood, though it is very versatile and is also good with vegetables, chicken, and red meat – a great one to have in your repertoire.
SSS Class Gift Certificates

We may not be able to host in-person classes right now, but you can still purchase a gift certificate for a future class! These make the perfect gift for any seafood or cooking enthusiast.

Learn how to make dishes like Singaporean Chilli Crab, Seafood BBQ, Sushi and Sashimi, or Spanish Tapas – with our quintessential three-step process: watch, cook, eat!
You are receiving this email because you are on Sydney Seafood School's database, having booked a class, purchased a gift certificate or asked us to add you to our mailing list for recipes and information on upcoming classes.
Sydney Seafood School
First Floor, Waterfront Arcade
Sydney Fish Market, Bank St
Pyrmont, NSW 2009
Australia
Update Preferences | Unsubscribe
| | |
| --- | --- |
| | |