Skilled migrant sponsorship: your guide
Dear Employer
Have you been finding it difficult to fill positions and are considering sponsoring a skilled migrant? We've received feedback that the way the sponsorship process is explained is difficult to follow.
To help, the Small Business Commissioner has written a simplified guide. It includes an overview of the process and answers the most commonly asked questions.
Top sponsored migrant occupations for 2022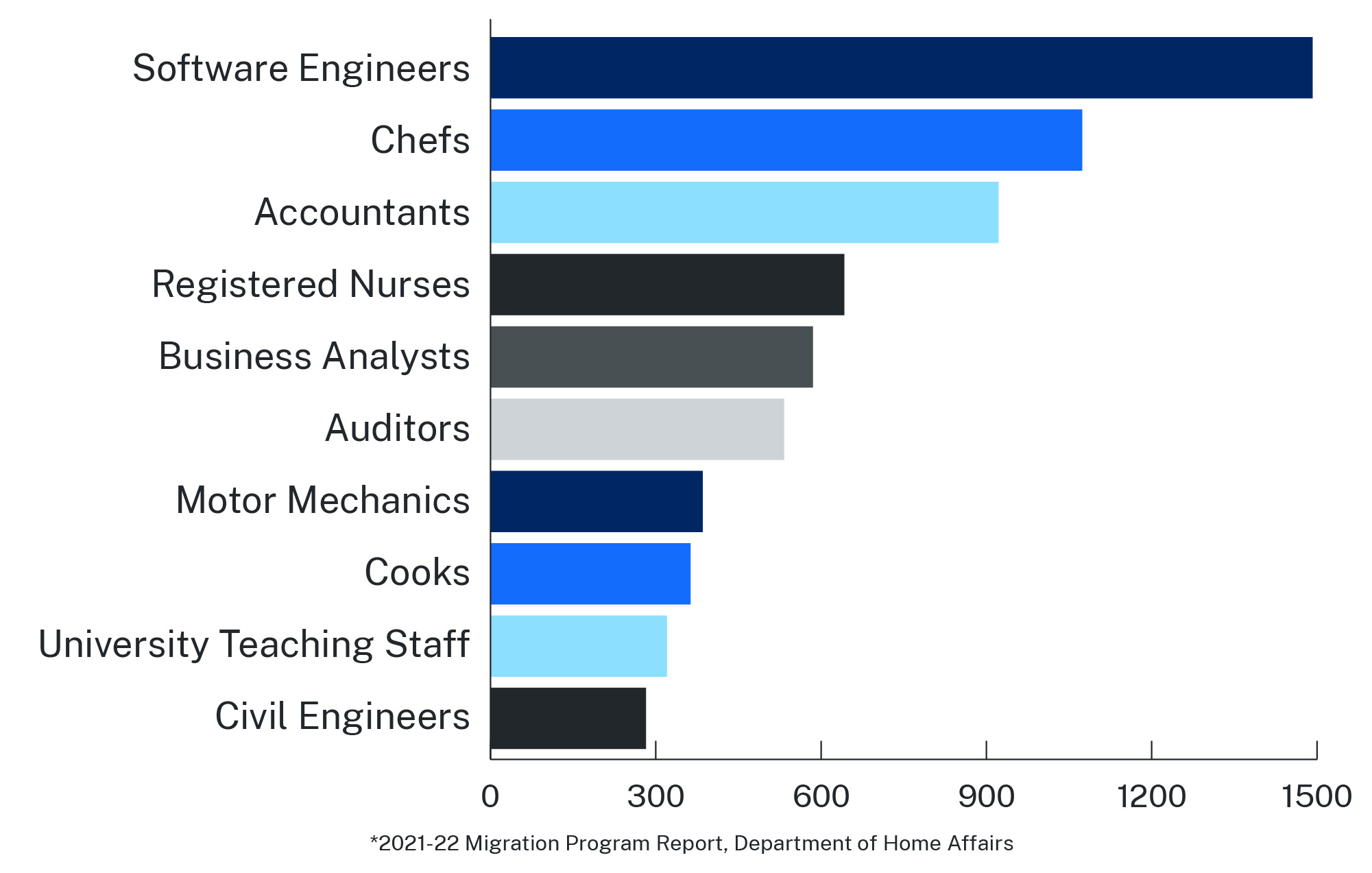 CEOs share their business success tips for free
Want to find out how some of NSW's business leaders go about solving the same sales, marketing and branding challenges your business is facing?
Learn from their successes at the free Reboot 2023 webinar series. Topics for these live, online events include:
The secrets to rapid online growth (23 May)
Building a purpose-driven business (30 May)
Missed a topic relevant to you?
Catch up with recordings from March and April, plus the 2021 and 2022 Reboot series.
Claim $750 to make your premises more water efficient
From putting aerators into your taps to replacing a single-flush toilet, there are many things the WaterFix Small Business program can do to help your business use less water and get cheaper water bills.

Until 30 June 2023, you can claim up to $750 in plumbing services to make your premises more water efficient. Claiming starts with booking an appointment with Sydney Water.
COVID-19 vaccination certificates no longer in the Service NSW app
The Service NSW app has played a vital role in managing how we live with COVID-19.
Because proof of vaccination is no longer essential, the Service NSW app now doesn't include COVID-19 vaccination certificates.
What options are still available?
The Medicare mobile app can still display COVID-19 vaccination certificates.
ATO changes how you can claim work-from-home expenses
From this financial year, the 80c/hour 'Shortcut method' will no longer be available.
The changes to the 'Fixed rate method' include:
hourly rate increase from 52 to 67 cents
you don't need to have a dedicated home office space
you must keep a record of the hours you work from home
you need receipts for every item you claim.
The 'Actual cost method' (calculated on your additional expenses when working from home) remains the same.
If you need help to start, run, grow or adapt your business, contact a Service NSW Business Concierge
Call 13 77 88 Monday to Friday 8am to 5pm
| | |
| --- | --- |
| | |