]
GERWYN DAVIES in Good Weekend
Gerwyn Davies in 'Good Weekend': HIDDEN MEANING
o
nline
Pick up a copy of Good Weekend magazine today to get a rare glimpse into the life of Gerwyn Davies. Often concealed by the elaborate costumes he crafts for his photographs, Gerwyn sat down with Jane Albert in a revealing interview. Gerwyn shares information on his upcoming exhibition with Sydney Living Museums to discuss his recent PhD, his childhood moving around Australia and what the artist has in store for the future.
Where most photographers seek to reveal, Gerwyn Davies attempts to conceal – a practice that's getting him noticed.
'In 2019 Gerwyn's work was picked up by Australian art dealer Michael Reid for his Berlin gallery. "Photography now makes up 50 per cent of the international contemporary art market because it translates literally across smartphones so easily, there's no need to contemplate painterly brushstrokes or texture," says Reid. "It's all about the emotional hit you receive."'

'The gallery hosted Davies's Utopia exhibition earlier this year, selling a manifold of prints. "We put a major work [Fountain] in the window and Berliners would to stop and stand around it like it was a heater that they were basking in its warmth," says Reid, who has represented Australian contemporary photographers, including well-known figures Trent Parke and Tamara Dean, since the early 1990s.'
'It was during the four years of his doctorate that Davies created his singular body of work. Back in his uni days in Queensland, he and his housemates would enjoy a few bottles of cheap wine before creating outrageous costumes and playing up for the camera. Those flatmates have since gone on to "sensible" careers like medicine and law, but Davies took up where they left off, exploring the performative potential of photography in more depth.
This year Gerwyn completed his PhD, a thesis studying the excessive aesthetics of camp, using exaggerated characters and artificial, plasticky backgrounds to distract the viewer by subverting the nature of portrait photography.
I'm looking at the idea of being invisible, visibly.
Congratulations to Gerwyn for his many great achievements this year. Alongside completing his PhD, the artist enjoyed commercial success in his Michael Reid Berlin show 'Utopia', realised a solo exhibition with UNSW Galleries 'Plush', but is also eagerly working on a monolithic exhibition with Sydney Living Museums where the artist has been commissioned to create works that draw direct inspiration from their 12 historically significant locations.
Gerwyn Davies by Dominic Lorrimer
In 2020 Gerwyn Davies was invited to design the iconic 2020 Tree for Queen Victoria Building in Sydney. Click to watch how it all came together, as an act of celebration in the strangest of years.
BERLIN
Alec Baker
August 27 – September 25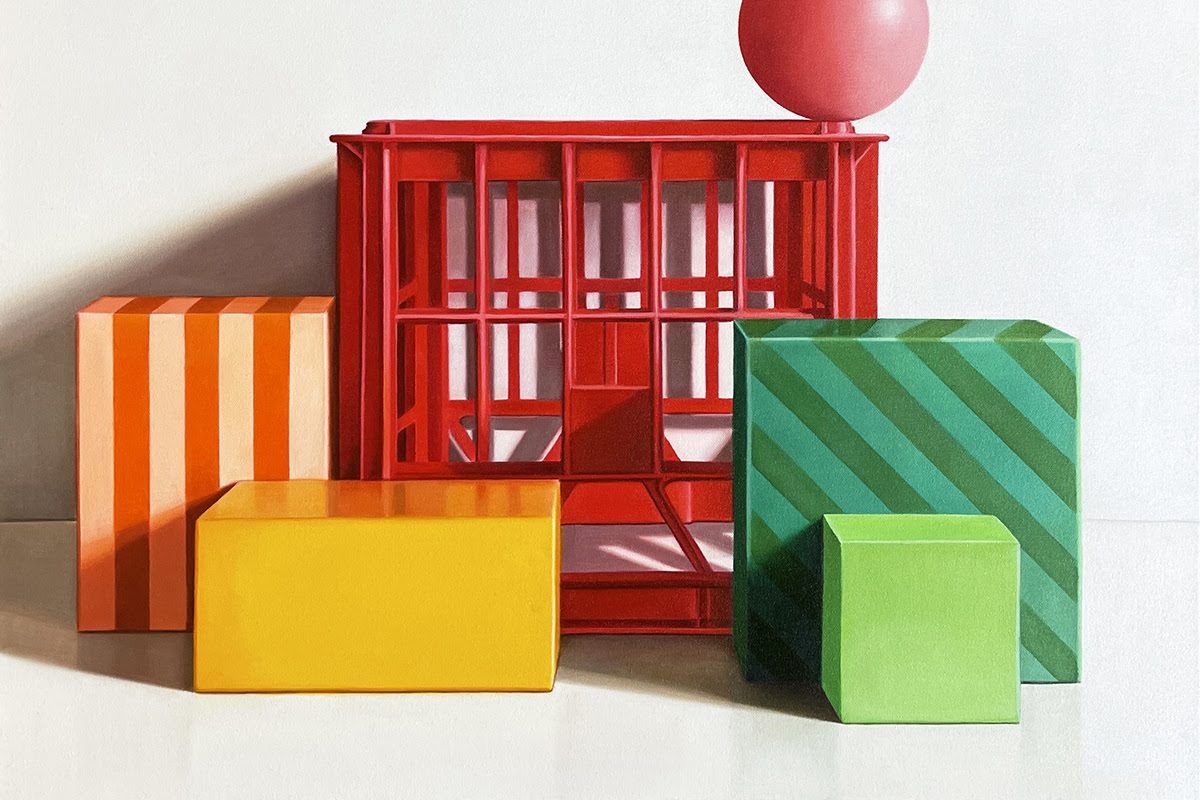 MURRURUNDI
Coming Soon: Jane Reynolds
September 9 – 26
| | |
| --- | --- |
| | |