Four Delicious Ways to Cook Bivalves like mussels and oysters
Bivalve molluscs are any shellfish with a double hinged shell, many of which are commonly referred to as clams… 'Clam' once meant 'shut', and these creatures can shut their shells tightly to protect themselves from predators.
Many of our most popular shellfish, such as Oysters, Scallops and Mussels, are bivalves. But we also have some equally delicious, less commonly used (therefore less expensive) bivalves… namely Vongole and Pipis. Although Australia doesn't have as large a range of clams as is available in North America and Europe, we do have some other occasionally-seen clams, such as Surf Clams, Sydney Cockles, Blood Cockles, and Razor Clams.
Today we're sharing four tasty ways to cook with bivalves, all of which can easily be achieved at home!
Moules Marinières: Mussels in
White Wine
Mussels are one of the bivalves that Australians eat the most often, and for good reason! They are delicious, juicy, and suit a wide range of preparation methods. The Mussel Chowder from Doyle's Seafood Restaurant at Sydney Fish Market has been a crowd favourite on their menu for many years.
Mussels in white wine sauce is perhaps the most widely known Mussel dish. The best way to eat a dish like this is to abandon knives and forks, and use the shell from the first mussel you eat as an implement for scooping the others out of their shells.
Order your own fresh mussels from Nicholas Seafood here.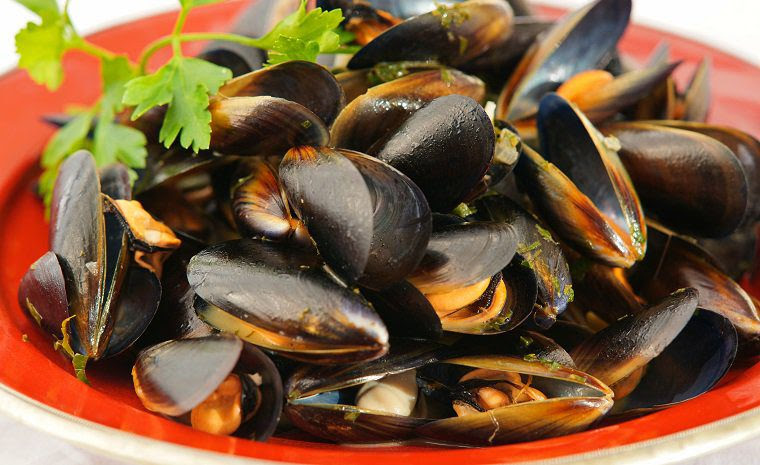 Surf Clams with Onion, Pancetta & Paprika
Surf Clams are found around the south-eastern Australian coast (including Tasmania) and harvested by hand in NSW from sand and silt along coastlines, sometimes off ocean beaches and often near beds of Posidonia seagrass. They can be a tad hard to find for delivery, so we recommend using these WA Venus Clams from Claudio's.
This dish shines with the sunny flavours of Spain, where smoked paprika is often used, and shellfish and pork is a popular combination. Tip for cooking bivalves: while traditional wisdom was to discard shells that don't open when cooked, you can pry them open, away from the plate, and, if they smell good, eat them; if they're bad, your nose will tell you!
Steamed Saucer Scallops with Green Onion & Ginger
Scallops come in two varieties in Australia: Commercial and Saucer. Whether they're raw, seared, grilled in the half-shell, tossed through a pasta, or cured in citrus – it's hard to go wrong with scallops, particularly considering the price. When the season is at its peak, prices can get down to under a dollar each for cleaned Scallops in the half shell.
Steaming is the perfect cooking method for firm, glassy Saucer Scallops. These make a great snack or entree before a heartier dish with Asian flavours. Order Scallops for delivery from GetFish.
Mixed Shells in White Wine with Chorizo
This is a great way to try a bunch of new bivalves at once! Throw any combination into this delicious recipe – vongole, pipis, mussels, cockles, any type of clam – they'll all work beautifully. Check out Claudio's home delivery for the widest variety of bivalves.
Like in the above Spanish-inspired recipe, this dish combines the flavours of pork and seafood in a traditional mediterranean style, but you could always leave out the chorizo if you prefer!
SSS Class Gift Certificates

We may not be able to host in-person classes right now, but you can still purchase a gift certificate for a future class! These make the perfect gift for any seafood or cooking enthusiast.

Learn how to make dishes like Singaporean Chilli Crab, Seafood BBQ, Sushi and Sashimi, or Spanish Tapas – with our quintessential three-step process: watch, cook, eat!
You are receiving this email because you are on Sydney Seafood School's database, having booked a class, purchased a gift certificate or asked us to add you to our mailing list for recipes and information on upcoming classes.
Sydney Seafood School
First Floor, Waterfront Arcade
Sydney Fish Market, Bank St
Pyrmont, NSW 2009
Australia