Xmas orders – don't delay! | Free freight from Josef CHROMY in  TASMANIA
Joe Chromy turns 90
It was only a few months ago that we were celebrating the 70th anniversary of Joe's escape to freedom from Soviet-controlled Czechoslovakia. The next number is even bigger! In December, Joe will turn 90. We started planning for the celebrations in a pre-COVID world. Suffice to say, things are a little different now!
During November and December Joe will be hosting a number of small group functions in the north and south of Tasmania, culminating in a 3-day birthday celebration on 18-20 December including a public event at Josef Chromy Wines on Sunday 20 December. Guest Chef Guillaume Brahimi, from Sydney's Bistro Guillaume, will prepare a 6-course degustation lunch menu paired with an array of Josef Chromy Sparkling wines. Lunch will be followed by an intimate outdoor performance by multi-ARIA award winner Kate Ceberano. Tickets are available for lunch + concert, or concert only. We'd love for you to join us!
Tasmanian borders open!
Tasmanian borders opened this week and we're looking forward to welcoming interstate visitors to our cellar door and restaurant. Tasmanian COVID requirements differ to other states, so please understand if our tasting and dining environment is a little different to what you might be used to. For one thing, there is no, and I'm quoting the authorities here (honest!), vertical dancing or vertical drinking. Horizontal drinking and, ahem, horizontal dancing are apparently fine, but we'd rather you just sit! Rather than pour open bottles into re-used glasses, every pour must be into a clean glass. Therefore, cellar door tastings are now available as seated, zero-contact flights of 4 wines with a cheese board. Bookings are essential for the cellar door and restaurant so that we can manage density requirements and afford all of our guests and staff their 2 square metres. Visit our website to make wine tasting and restaurant bookings.We've also introduced weekend picnic packs to our restaurant repertoire so that  you can grab some food and wine, BYO blanket and find a nice piece of grass (or the odd picnic table) overlooking the lake. This is a great option for an informal family catch-up after so many of us have been separated for so long. Available Saturday and Sunday only – please order your pack by 9am Friday for collection on the weekend. More information here.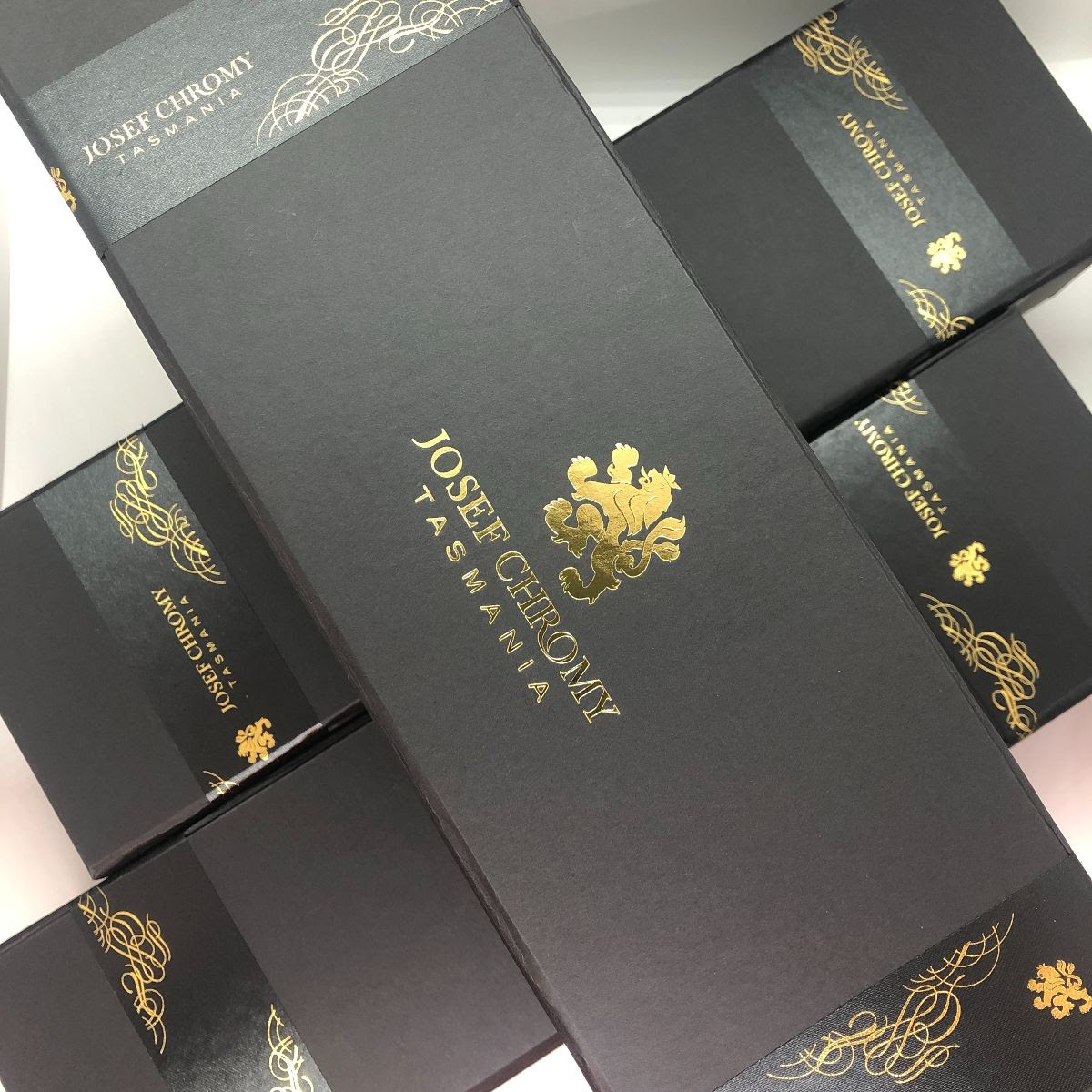 Wine gift boxes 
Add a Josef Chromy wine gift box to your order for just $10. Suitable for our full range of wines, excluding vintage sparkling wines. Flatpacks for easy shipping.
New Release Wines
In a flurry of wine orders, as people look to slake their thirst for wine and the finer things in life at home during the COVID pandemic, a number of our estate releases have rolled vintage. The 2019 Josef Chromy Sauvignon Blanc, 2019 Josef Chromy Riesling and 2019 Pepik Pinot Noir are now gracing orders. So too is the 2019 Josef Chromy Chardonnay. We knew something was up when the winemakers started lining up to order the Chardonnay before it was even released!
Wine Club Members will soon have first access to some very exciting sparkling releases in the 2016 Brut Finesse Vintage Sparkling (available in November Club deliveries), NV Petillant, and the long-awaited 2008 Zdar Vintage, recently labelled after 11 years resting sur lies. In November, we will also be releasing a new Single Block Reserve Pinot Noir. Look out for an exciting new release update in your inbox in November!
Where do you buy your Pepik?
We've sent our Pepik range of wines as far out into the marketplace as we can – think of Pepik as our frontier soldiers boldly going forth to make way for more of the goodness that is Josef Chromy Wines. We've also invested in some nifty Pepik t-shirts to help promote the wines and we're looking for suggestions from you on where to send them! Do you have a local bottle shop, corner store or providore that keeps you in Pepik? Do you think they'd like a couple of black hipster staff t-shirts? 
Please send suggestions to amy@josefchromy.com.au
. If your suggestion is successful (we only have a few dozen shirts!), we'll send you a bottle of new 2019 Pepik Pinot Noir as thanks.
PEPIK wins BWS Local Luvvas competition
PEPIK has added another string to its bow as the Tasmanian wine winner of BWS' Local Luvvas competition. BWS customers were asked to vote on their favourite local brands, with the winners to be placed in more stores around Australia. Thank you to everyone who voted for us. We may not have the marketing budgets of the big companies, but boy howdy our wines are doing a good job at selling themselves!
Upgrade to a Riedel Premium Tasting
Joining us for a seated wine flight at cellar door? Josef Chromy Wines is now offering  a Premium Riedel Wine Tasting option. Your wines will be poured into a set of varietal-specific Riedel Performance glasses, valued at $50 each. You will also receive a tasting pour in a generic glass, giving you the opportunity to see the difference in how a wine shows in custom vs generic glassware. Your wine tasting will be accompanied by a cheese plate and an informative tasting booklet. At the end of the tasting, the Riedel Performance Series glass set is YOURS TO KEEP! Upgrade for $200pp. 
Book a Cellar Door Wine Tasting with optional upgrade.
DATE CLAIMER!
PEPIK Summer Music SeriesWe're setting up a permanent soundstage on the lawns alllllllllll Summer long!  Tickets on sale soon.
20/12/20 – Kate Ceberano & Band  |  S&M
10/1/21 – Nadira & Friends  |  Emily Sanzaro  | Nathan Broomhall
14/2/21 – Bad Dad Orchestra  |  Cody Gunton  |  Ryan Williams
28/2/21 – Monique Brumby  |  Heloise  | Meres
14/3/21 – Ange Boxall  |  Just Flare  |  Jade & Dane
Wine and welfare calls
Sharyn is continuing to make contact with our valued customers to make sure they're stocked and ready for a merry festive season. She's a good person to speak to if you're after something special or looking for a recommendation!
Overlooking a picturesque vineyard and lake, Josef Chromy Wines is a perfect location for your wedding ceremony and reception. It's never too early to start planning your wedding.
Contact Nicole
JOSEF CHROMY WINES PTY LTD   |    Ph 03 6335 8700   |   wine@josefchromy.com.au
370 Relbia Rd RELBIA TAS 7258   |   ABN 59 105 564 010Copyright © 2019 Josef Chromy Wines  – All Rights Reserved.WARNING: Under the Liquor Licensing Act 1990, it is an offence a) for liquor to be delivered to a person under the age of 18 years (Penalty: $3,140 fine); and b) for a person under the age of 18 years to purchase liquor (Penalty:$1,570 fine)..TAS Liquor Licence 58122.